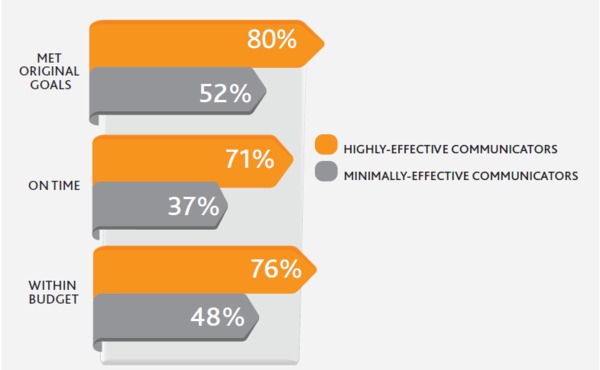 Effective project communication with all involved stakeholders is one of the most crucial drivers of successful project management in field services.
Oft-cited research from the Project Management Institute (PMI) revealed that among companies with highly effective communication, 80 percent of projects met their goals, compared to a 52 percent success rate for those with minimally effective communication. Further, the degree of effectiveness of communications significantly impacted whether projects were delivered on time and within budget.
Field service managers who use multiple applications for project communications may find it challenging to achieve the level of communication needed to ensure project success, especially when key stakeholders are distributed across different geographical areas. Without the right enterprise resource planning (ERP) solution in place, project management and communication can become a labor-intensive, frustrating chore riddled with inaccuracies, outdated information, and poorly communicated objectives that lead to costly project delays and budget overages.
Acumatica Cloud ERP enables you to manage all aspects of your projects in one place! Access the information from any internet-enabled mobile device including your laptop, tablet, or smartphone anytime, anywhere. Your project managers and teams will be well-informed and up-to-date at every stage of the project cycle.
How Acumatica facilitates project communication
Acumatica enables you to manage your projects from start to finish with the following functionalities:
Notifications that require action
These notifications typically include the URL link of the item that requires action, making the process easy and user-friendly. Examples include:
Workflows
Approvals
Revisions
Simple informational communication
The purpose of simple informational communication is to maintain a well-informed team. Stakeholders in the field can then take action and/or make decisions when needed. Examples include:
Assignment of tasks or projects – "A new Project has been assigned to you"
Sales have increased by 10%
Project budget spending has reached 75%
Communication logs
Communication logs allow users to maintain a history of internal/external communications. They can manage project communication, documentation, and forms from the office or the field. Examples include:
Client communications
Internal communications/collaborations
Document management (e.g., attached project contracts, requisitions, purchase orders, contractor's insurance information, field services documentation)
Automatic report delivery
Schedule report delivery with Acumatica based on a pre-defined schedule and/or when certain criteria have been met. This is an efficient way to provide stakeholders with an up-to-date status of the project. Examples include:
Monthly delivery of project profit and loss
Periodic delivery of expense/revenue analysis
Monthly delivery of project budget
Delivery of AR aging when Invoice(s) Past Due is greater than 30 days
Delivery of AP aging when Voucher(s) Past Due is greater than 30 days
The right project communication tools are key to successful collaboration and team decision-making. Acumatica is the right ERP application to help you efficiently manage project communications while achieving organizational goals.
Learn more about Acumatica Cloud ERP and fill out the form at right for more information on how Acumatica can streamline your project communication and management today.