For food and beverage manufacturers, consistency is king when it comes to recipe management.
Recipe adherence and accuracy provide for consistency across batches and locations. Texture, taste, smell, and color consistency is important for building and maintaining customer loyalty.
For large-scale manufacturers, recipe control means coordination between warehouse and factory floor. It means accurate inventory management and picking functionality that is best served by an enterprise resource planning (ERP) function. It is one of the most critical challenges raised often by process manufacturers.
As seen in the recent Comprehensive guide to key ERP functionalities in food and beverage, having the right technological solution ensures that all areas of the manufacturing enterprise are sharing the same data and interpreting information and analysis accurately. There's no better area than recipe management to see the capabilities of an ERP solution on display.
Here is a look at some of the most common recipe control ERP functionalities in foods and beverages.
Recipe storage. Recipes, and versions, need to be stored and accessible, with easy-to-use functions for version management and duplication.
Tracking and costing. Your recipe management function, when integrated with purchasing tools, can ensure that your company is lowering per-unit costs.
Measurement conversion. Units of measure conversions need to be available at each level, including purchasing, manufacturing, storage, inventory, sales, and shipping.
Proportion management. Often complex calculations are necessary to manage the scaling of recipes to different batches.
Shelf-life management. Your company can help reduce waste by managing shelf life and expiration dates for raw ingredients, ensuring that recipes are designed and executed to maximize inventory usage.
Formulation. You need tools to help manage the formulations for intermediate and finished products.
Yield management. Your recipe management system should support comparison of actual yields to standard yields.
Quality control. Your food ERP system should be able to store and track quality measures for each recipe and finished good.
Inventory substitution. When ingredients are not available on site, your recipe management solution can help determine if there are cost-controllable alternatives within your inventory.
Labeling. Your labeling needs to reflect accurate ingredients, nutritional information, and allergen information.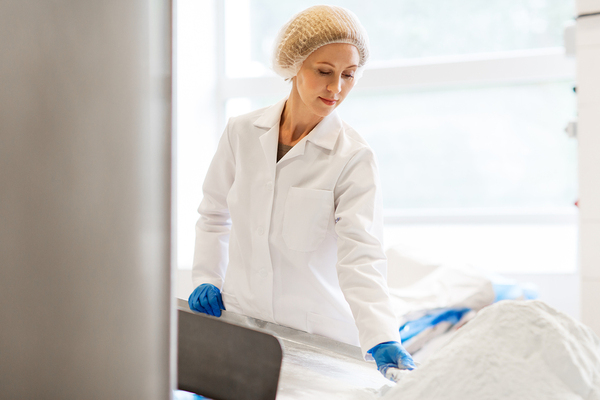 Compliance. Tracking ingredients at the batch level allows for better compliance with regulatory mandates.
Monitoring. For allergen management and kosher and other religious requirements, ingredients, processes, and finished products need to be managed carefully and in strict adherence to proper procedures.
Track and trace. If there is an issue or recall, track and trace functionality allows for faster response times and resolution of customer issues.
Archiving. Your recipe management allows for the archiving for years if not decades of recipes, ingredients usage and batch management, which is particularly useful for recalls and allergen alerts.
Security. Keeping your recipes and ingredients safe requires access controls and protections for proprietary information stored in your ERP solution.
At NexTec, we help food and beverage companies identify their ERP needs and recommend solutions that incorporate comprehensive recipe management functionality. Our expert consultants know the vendors, products, and features to help your company select and install the right ERP solution that needs critical needs.
Read our recent study on the food industry to learn more about how NexTec can help with your ERP solution development.