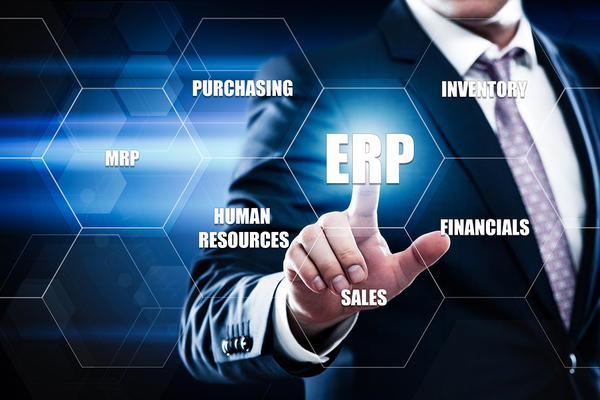 Dynamic companies include complex functions that often seem to operate independently. Operations, IT, finance, and marketing entities may act independently in their daily operations but are interdependent, closely woven groups.
For CEOs, knowledge and information are valuable assets. These business units generate large amounts of data, often using independent software platforms and systems.
What if that data were truly integrated, providing powerful visuals and analytics to drive decisions? What if those systems were connected, allowing for more synergies, efficiency, and collaboration throughout the organization?
That's the power that enterprise resource planning (ERP) platforms can provide. Enterprise resource management helps create a structural framework and integrated processes that make data readily available and actionable. With ERP solutions, your pain points are addressed and eased in real time, while driving overall functionality, productivity, and profitability.
Below is a comprehensive guide that illustrates what every CEO needs to know about ERP.
ERP for CEO basics
ERP systems are business process management software packages that allow organizations to integrate multiple applications. In so doing, executives can better manage day-to-day operations, manage the business, make strategic decisions, and automate back-office functions.
From research and development and product planning to manufacturing to sales and marketing, an ERP system brings together the core business functions. It pulls data from these disparate systems into one unified space for analysis and reporting.
The first deployments of ERP systems in the 1960s focused on simple computer programs that monitored inventory levels and reconciled balances. In the 1970s and 1980s, software engineers began creating more complex programs called Material Requirements Planning or Manufacturing Resource Planning systems that could manage manufacturing processes.
By the 1990s, modern ERPs began to emerge that could manage inventory and operational processes along with back-office functions such as human resources.
In the early 2000s, as the web became more prominent, the web-based software allowed for some real-time access to business information. These newer systems incorporated new components, including business intelligence, sales force management, and e-commerce.
In the past decade, as software-as-a-service (SaaS) applications have grown and become modernized, many ERP solutions are moving to the cloud.
ERP explained: Benefits of ERP systems
ERP solutions have considerable benefits, advantages that are magnified the larger and more complex an organization is. By driving complex data sets to a singular platform, it becomes easier to identify synergies, trends, challenges, and opportunities.
Here are the key advantages to ERP:
Visibility. With shared access to data across the organization, leaders and managers can quickly know progress in other areas. Managers have a holistic, big-picture view of the company and its operational areas. This aspect of ERP systems boosts both accountability and transparency.
Productivity. With more access to more data more quickly, businesses will be better able to pinpoint logjams, gaps, and problem areas in production and back-office functions. Automated functionality allows for faster turnaround of processes, faster transfer of information, and better seamless handling of information.
Mobility. Today's global organizations need to have data entered by and accessed by employees all over the world. With ERP solutions, especially those that are cloud-based, employees can access the system and its data anywhere, at any time, and on any device.
Scalability. ERP systems today are designed to grow as a company does. Instead of purchasing systems that have too little or to. With cloud-based ERP solutions, companies can grow their ERP needs as their capabilities, markets, and operations expand.
Better Access. With ERP systems that automatically convert and display inputted data, companies can see what's happening faster than ever, often in real time. Data is more usable and does not need to be shared, converted, and tweaked by staffers in order to be usable.
Security. ERP systems come with careful security controls that allow organizations to limit access to systems and data based on documented criteria. This user identification and management technology ensure that information is accessed by authorized personnel only.
Compliance. Many businesses are subject to rules and regulations by federal or state government agencies. With ERP solutions, compliance with mandatory audit, inspection, and reporting requirements is automated and protected.
Collaboration. With more and easier access to information, employees in different business units can collaborate more easily and effectively on special projects or regular work.
Central Repository. With an ERP system, leaders can have a clear sense at any time about services provided, products, inventory, financials, vendors, retailers, suppliers, and customer orders.
Reduced Complexity. Simplified and common rules for access, entry, and retrieval of information reduces complexity for system users. This drives better data quality, better reporting, and reduced data entry and analytics costs.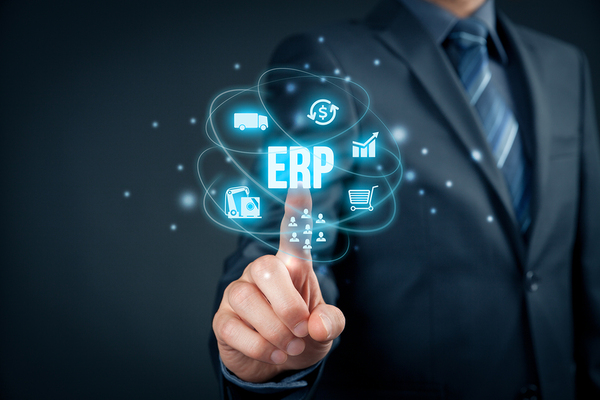 ERP components explained
ERPs can include multiple types of information modules, many of which are common across companies and others of which are industry-specific. Here are some of the most common:
Manufacturing. Managers can determine current stock, future needs, and past orders to track trends and ensure that supply meets current and anticipated future demand.
Supply Chain Management. This section provides seamless transparency from start to finish throughout the supply chain. This module includes forecasting, procurement, planning, demand management, procurement, and planning features.
Product Lifecycle Management. This module helps track design and features of products throughout their lifecycles. Product design, data management, portfolio management, materials sourcing, and customer needs features are usually included.
Warehouse Management. These modules follow a finished goods or components from warehouse delivery through to replenishment, picking, and fulfillment. In certain manufacturing sectors, these systems also help with track and trace capabilities in case of a needed recall.
Inventory Management. This module is often closely linked to other components of the production cycle, including shipping, orders, and logistics. Features include inventory control, serial number tracking, barcoding, inventory valuation, and SKU management.
Asset Management. When combined with the Internet of Things, these modules can accurately track equipment, materials, tools, and even plants themselves. Features include maintenance schedules, locations, equipment uptime rates, maintenance management, warranty management, compliance with hazardous-material regulations, and waste tracking.
Project Management. Here managers and employees can track project progress, timelines, costs, and budgets. This module is ideal for companies that bill customers based on time spent by employees on specific projects. The module can track project definition, specifications, variances, costing, billing, portfolio management, and resource management.
Order Management. To accurately track orders, these modules help monitor order progression, beginning with customer identifiers and product part numbers. This module may include automated order entry, packaging assignment and analysis, picking management, order status, cancellation and return tracking, and validation.
Human Resources. Employees and HR staff can manage time off, time entry, employee assessment, rewards and recognition, payroll, benefits management, learning and training, professional development, and vacancy paperwork and recruitment.
Sales. Sales reps can see available inventory, review orders, and place new orders in real time, while managers can analyze sales by product, client, employee, or time period.
Marketing. Manage outreach to potential and existing clients, track responses by channel or campaign, review customer interaction histories, and develop marketing segments.
Accounting and Finance. Employees can access customer accounts, cash booked business as accounts receivable, and create financial reports and ledgers. Business reporting and analytics functions allow executives to review financials and find trends.
Customer Service. Customer service reps can log calls, emails, and other interactions, see sales histories and notes from finance and sales teams, and provide higher levels of service when dealing with complaints, concerns, or returns.
Types of ERP deployments
ERP systems can be installed and managed in several ways. The most popular are on-site, cloud, or hybrid systems.
On-site systems allow for maximum control of the data, security, and maintenance of your ERP solution. Often these installations are used by companies with federal contracts that require special security protocols and safeguards and wherein cloud solutions are not allowed.
Cloud-based systems are growing in popularity among manufacturers. With cloud solutions, companies can reduce costs related to on-site storage and cooling, maintenance staff, version and patch management, and on-site and virtual security. Cloud ERP tools can scale as the organization grows, provide redundant backups in multiple locations, physical security, and dedicated update management.
Hybrid versions place some functionality in the cloud while retaining some systems management internally.
The future of ERP
Throughout its history, ERP systems have evolved in response to new technologies and changing business needs. The future is likely to follow the same pattern.
Future advancements are likely to better support multiple languages, sites, currencies, companies, and legislative restrictions. Mobile ERP solutions will evolve to provide more functionality and access to reports, dashboards, and data regardless of device or location.
Making the switch to ERP
For CEOs considering a switch to an ERP solution, here are some considerations to answer:
Is the organization ready for the change?
What resources will be needed in terms of budget and personnel to manage the change process?
What additional training and support will employees need?
Can the selected solution be customized?
Will ERPs boost performance in weaker areas of the business?
How adaptable is the system to anticipated future growth?
How long will it take to show a return on investment?
What external assistance will I need in selection and implementation?
At NexTec, we help senior leaders answer these questions and make well-informed decisions. Our nationwide team of consultants understands the vendors, products, and features in the ERP space.
We work closely to help companies select the right systems and implement it with little disruption. To learn more about NexTec Group, download the NexTec Corporate Brochure.